"Tea, that vulgar little stimulant we sip to soothe our afternoons."
smarmy art critic in Margery Allingham's Death of a Ghost
Death of a Ghost begins with a yearly art show in an Anglo-Italian household ("Little Venice"). There's a brutal murder in the dark with a pair of scissors and the matriarch of the family, Belle Lafcadio, calls on amateur sleuth Albert Campion for help.
Many scenes take place around the tea table, so I thought this was the perfect book to accompany
Tea Time Treats
.* The theme this month was "Scones--Sweet and Savory" so I made them with rosemary to make an Anglo-Italian Tea Time Treat.
Rosemary Cream Scones
2 cups all-purpose flour
2 tablespoons cold salted pasture butter, cut into small cubes
1 teaspoon salt
1 tablespoon baking powder
1/2 teaspoon cream of tartar
1/4 teaspoon baking soda
1 egg
1 to 1 1/2 cups heavy cream
leaves from 1 sprig rosemary, minced

Preheat oven to 425 degrees Fahrenheit. Line a baking sheet with Silpat or parchment paper. Set aside.

In a large mixing bowl, rub the butter into the flour then stir in the salt, baking powder, cream of tartar and baking soda. In a small bowl, beat the egg with 1 cup of the heavy cream. Stir into the butter and dry ingredients with a wooden spoon. Add more cream, as needed, to make the dough soft (but not sticky).

Knead the rosemary into the dough (just don't overwork it) then turn the dough out onto a floured surface. Pat into a 3/4"-thick round and cut into circles with a 2 1/2"-diameter biscuit cutter.

Place on baking sheet, leaving room between each scone, and bake about 15 minutes, or until nicely browned, in preheated oven. Serve warm.

Makes about 7 scones

Adapted from "Cream Scones" in Laura Mason, The National Trust Farmhouse Cookbook (London: National Trust Books, 2009), 230.
Print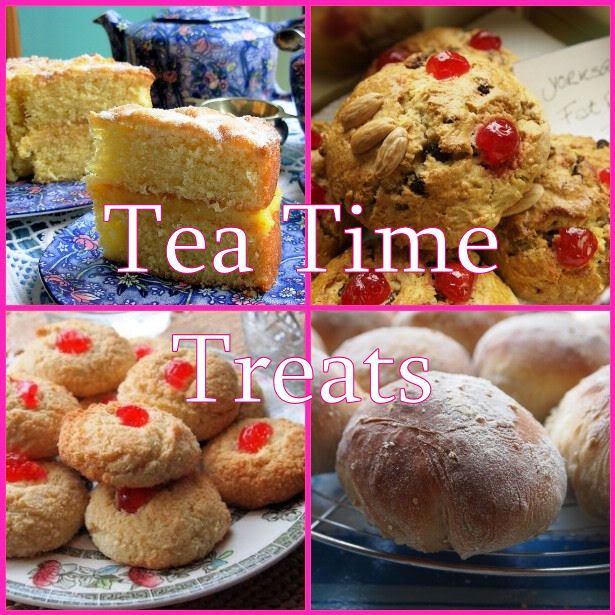 *The creators of
Tea Time Treats
are Karen at
Lavender and Lovage
and Kate at
What Kate Baked
. Thanks to Karen for hosting this month! Be sure to go check out the round-up on April 1st.